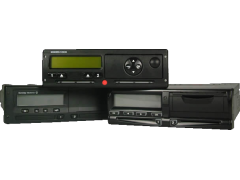 The digital tachograph is a new control device that from 01.05.2006 replaced the previously used analogue tachographs in all newly manufactured vehicles of category N1 ( with sidecar ) , N2 , N3 and M2 and M3, Class III.
Unlike analogue tachographs, where the driver activities are writed on tacho-chart, the data are recorded on a Driver Smart Card and into the tachograph itself.
On the Drivers Card in addition to driver activities are recorded some traffic information, such as power supply interruption, interruption of communication with the sensor , card insertion while driving , failure in the card or tachograph , speeding, start and end working days , place card insertion and withdrawal. In memory of digital tachographs are recorded data for all drivers whose cards were inserted in the tachograph. Tachograph recorded any data in UTC time , ie in the central world time.
The capacity of the digital tachograph must be min. 365 days. After it is full, the oldest data are overwritten with the new.
As these data are overwritten without prior download and save to your computer, so it is an offense.
Data from the digital tachograph has to be downloaded at the latest every 3 months (90 calendar days) from the previous download.
"The Ten Commandmets " for driver of vehicle over 3,5 t
How to correctly input the country for shift start/end